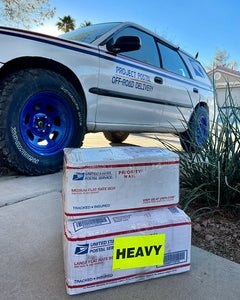 PROJECT POSTAL BUILD THREAD
What's up everyone, figured I would create a new build thread for my latest Subaru. I recently picked up a 1998 Subaru Legacy Postal. It is an Automatic 2.2 that originally came out of Texas. From what I know, it was an old Postal Service delivery vehicle for farms and remote locations. 
Lets start off with a few photos of what it looked like when I purchased it. 
 I was chasing this car down for about 6 months, writing the owner about once a month if he wanted to sell it. Finally on a Saturday night he reached out and said, "If you can come in the morning I will sell it" I knew then, it was time! 
He originally was asking $2500. When I pulled up and saw the car in person for the first time I knew I was getting myself into a project. The transmission slipped first and second gear. Tons of oil leaking out (still is) and just random small things that needed attention as well. I made an offer of $1500 and drove it home that morning. He advised I should trailer it, but I was so excited I said F it and took the chance. I made it home no problem and continued to drive it in its current condition for a few weeks knowing I would be putting a new trans in it anyways. Can't get worse right?
I knew I was going to lift and build this postal before I even bought it. I currently owned @ProjectWagon which I have took all over and enjoyed for 10 years but it was time to upgrade to something else that was more family friendly and honestly just spark my love for subaru all over again. I went with one of my favorite wheel/tire setups that I ran on that. 
 Hankook Mud Terrains (MT2) 215/75/15 with Basset Racing Wheels (15x7 4'' Backspacing) 
 I took them directly over to @6651Customs in Las Vegas to get them powdercoated. 
Of course I had to add some lights and white out panel. On my OG build I loved my whips and lights. I decided on this vehicle I would install everything proper so I don't have to do it twice! I installed NiLight 4' Whips, 2 flush mount pods and a 7'' Light bar on my hood. I even installed rock lights and used an Auxbeam switch board to make it easy to control.
I got impatient waiting for my lift to come in, so I decided to go ahead and mount my 04 Forester suspension and mount my tires. I rubbed soooo bad but I didn't care. I love how it looks! 
Next up was my first wrap idea. I always switch up my designs every few months with my local shop @5150Wraps
Here is a render of what I wanted and this is what we achieved! I think it came out awesome
 My lift from Anderson Design Fabrication came in!!! 
 I always run ADF lifts on my Subaru's. Not because they are the best products in the market (IMO) their customer service and attention to detail is amazing. I highly recommend using their products with any of your Subaru builds. 
Check out their page @Anderson_Design_Fabrication
I decided to go with a 2'' Spacer Lift, 2'' Subframe Drop with a 3'' Trailing Arm Bracket Spacer Kit. With this kit you also have to extend your upper radiator hose, extend your steering shaft 1.5'' The install took us about 5/6 hours in a shop with a lift and proper tools. Normal install time is suggest 10 hours. But I worked with a pro named "Touched by Mo"
This man is a legend in the subaru community locally and I am honored to be able to have him help out on this install and be apart of our team at Kaiju Motorsports in Las Vegas. First lets take a look at the parts that were delivered then we will dive into the install. 
Alright, lets get started on install! 
We decided to drop the entire subframe and start in the front and work our way back
We went ahead and added the carrier bearing spacers as those were easy access
This part was somewhat difficult, you have to cut your steering shaft in the center and then weld in a piece (1.5'') I would recommend using round tubing rather than square like I did. I also recommend tack and test fit before completing the weld. I will probably go back and fix this. But we will see how it does for now. 
Touched by Mo 
First time off the lift here is what she looked like. 
Now it's time to go test it out and see what it is all about! I want to give a shout out to my sponsors, Anderson Design Fabrication, Touched by Mo, Kaiju Motorsports and 5150Wraps. Without you guys I wouldn't be here today with this build! Be sure to follow me on instagram @ProjectWagon to stay up to date. Here is a short install video I made as well. If you have any questions or anything drop a comment. 
---
1 comment