---
---
Features
Advanced TIR optics provide high efficiency and focus
High-intensity automotive-type LEDs with pure white color
Available in Driving, Flood, or Combo beam patterns
Slim 42mm housing for low-profile fitment
Durable matte powdercoated extrusion
Stage Series
Introducing STAGE SERIES LED lighting! Inspired by the needs of a professional rally driver, these light bars have been designed for maximum functionality, with compact size, custom-engineered TIR optics, and a useful beam pattern, all in a highly durable package.
Compact. The lightbar is based on a narrow-profile extruded housing, to allow fitment in small and tight areas. At less than 42mm tall, they'll fit in many places a traditional dual-row light bar won't, while cutting total weight as well. The heatsink design also drastically reduces wind noise, and does not whistle in the wind like many generic housings.
Focused. The compact size doesn't mean they're short on power! Thanks to the high-intensity Lumileds LED chips, coupled with our U.S. PATENT PENDING total internal reflection (TIR) optic, the total intensity of the Stage Series is far higher than a standard, generic light bar using basic optics or reflectors. Standard optics lose light internally, and to glare, spreading a little bit of light in every direction. Instead, the TIR optic in the Stage Series collects all of the light from the LED, and directs it only where you need it, drastically reducing glare and improving total efficiency. Click here to learn more: Total Internal Reflection (TIR) Optics | Stage Series Video.
Functional Patterns. All Stage Series beam pattern options were designed with optical simulation modeling, to shape the output in a highly-functional beam pattern. No matter what your auxiliary lighting needs are, there is a Stage Series optic for you! 
The Driving pattern was designed to supplement your high beams. Rather than a simple "spot" pattern, the Stage Series Driving pattern has a rectangular 20Wx8H degree pattern that is far more useful for directing light downrange at high speeds.
The Flood pattern was designed to provide uniform, even illumination and a full 80Wx50H degree spread of light. Unlike generic "flood" light optics that are simply a heavily diffused spot, our flood optic is a true optically designed spread, resulting in the biggest spread in the industry! It is perfect for lighting up anything at low speeds, a backup or reverse light, or to light up a worksite.
The Combo pattern combines both the Driving and Flood optics. It shines light downrange in a focused, rectangular 20Wx8H degree pattern while also illuminating area around it in a full 80Wx50H degree spread. The Stage Series 42" Combo Light Bar features five driving lenses in the middle with two flood lenses on the outer edges. 
Not just off road. In six-inch size, when installed as a pair and aimed in accordance with your state's regulations, the Driving pattern meets SAE J581 as a Driving/Auxiliary High Beam Light, and the Wide pattern meets SAE J583 as a Foglamp, for legal on-road use. Please check your local laws and regulations for aiming, installation, and applicability.
White or Amber. All Stage Series light bars are available in a cool white or amber color. The white is a 6000K color temperature, which is a true white output, without any blue. The amber is a brilliant deep yellow color, perfect for hazards or high contrast in poor weather. The SS42 Stage Series 42" White Light Bar can be found here. 
Change it up. Each lightbar is based on 6-inch segments. Each segment is sealed with an individual lens and a double-wall seal. This makes them more weather tight than a large, single seal, and it also allows you to change up the outer lens to suit your needs. With just a few screws, you can replace the outer lens with a new one to change the beam pattern or color. Replacement lenses can be found here.
Simple connections. All Stage Series LED lighting products use a standard DT type Deutsch-style connector, and come with a 6-inch pigtail, with bare leads. You can wire yourself, use an off-the-shelf Deutsch wire harness, or select an optional Diode Dynamics wire harness.
Proven Reliability. Stage Series lighting has been tested for long-term operation from -40 to 185 degrees F, vibration, moisture intrusion, and corrosion. All of these tests are completed to SAE/DOT standards, just like factory components. They've also been put to the test on-road, and are in-use by dozens of rally and endurance racing teams for nighttime stages and laps.
Experience. After over a decade in business, Diode Dynamics is one of the most trusted names in automotive LED lighting. We directly assemble and engineer our own products in the United States, allowing for higher quality and performance, with the newest and brightest LED technology. No matter what you're driving, we pride ourselves in offering only the best possible LED solutions. Please contact us if you'd like to discuss your lighting project!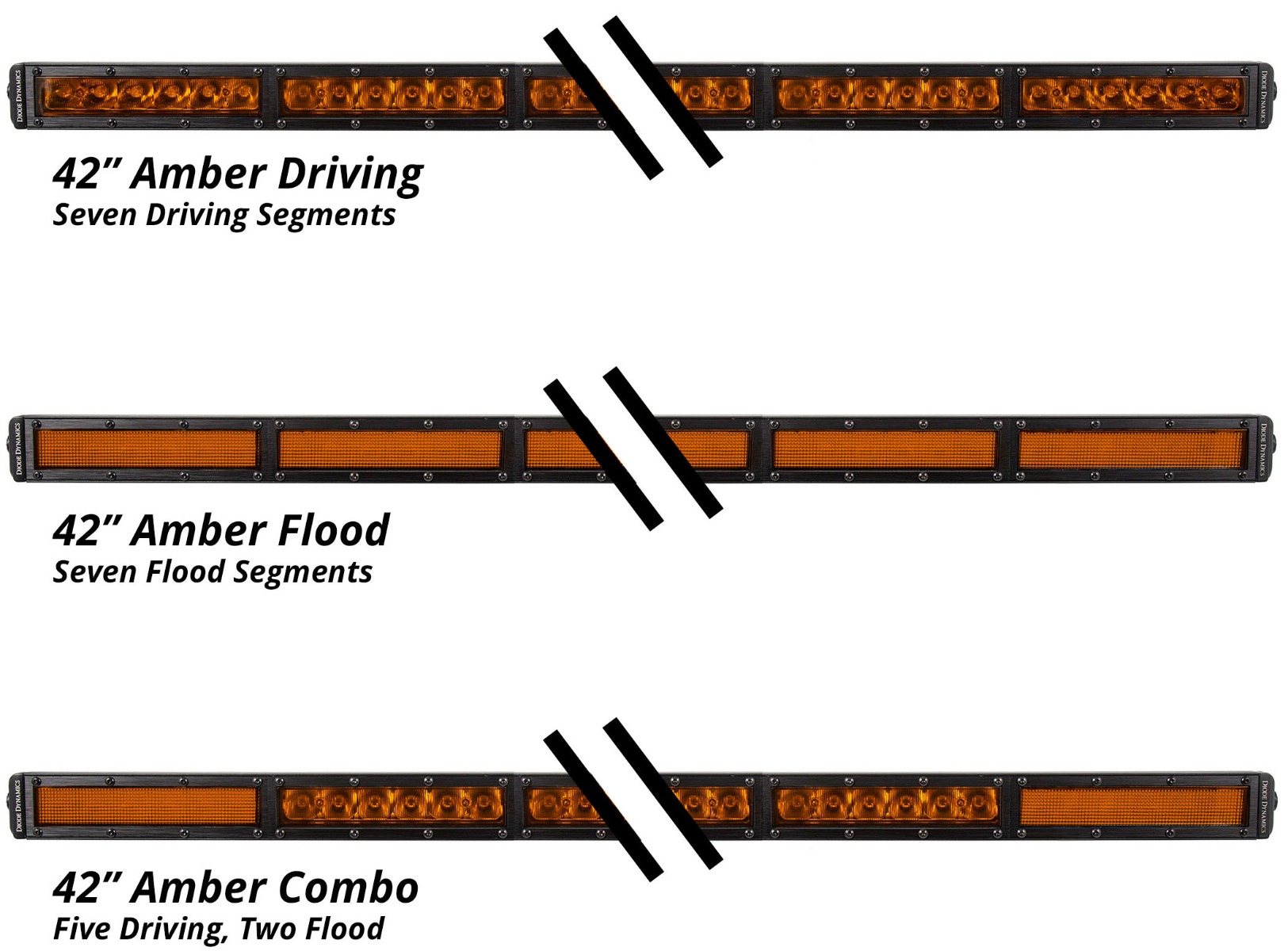 What's Included
In the Box:
One (1) LED light bar
One (1) wire pigtail
Hardware:
Two (2) M6 Hex Screws, for main mounting point
Two (2) M5 Hex Screws, for rear mounting point
Warranty:

 
8 year warranty
Return Policy:

 
30-day Return with no restocking fee
100% Satisfaction Guarantee
Fitment
With the included universal bracket set, this product can be installed on any make or model.
---