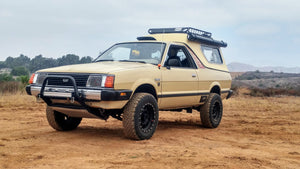 Bringing back a new life to the iconic Subaru Brat, Jason Osborne
Build Bio
@iluvdrt_Oz
82 Brat
86 dual range
96 EJ22
Full LED conversion
6 lug wheel conversion
Custom driveshaft
Sway away custom torsion bars
Bar pin rear shock eliminator
Bilstein 5100 rear shocks
24" limiting straps
GL dash swap
Bilstein 54mm 8" UMS long travel coil overs
Subiworks control arms with heim joints
04 Forester knuckles, hubs and front brakes
JDM STI spec C roof vent
1St EA81 4" ADF lift (6" total lift with suspension)
ADF EJ adapter plate
Power steering conversion
Rear disc brake conversion
SnugTop camper (restored)
Moto Alliance 6K winch
1st old school Torq locker
Lots of lights
15x8 Method Standard wheels
27.850.15 Achilles Desert Hawk XMT
8" front travel, 11" rear
1.6:1 low range
Aluminum radiator
Custom Strut mount brace
Nardi Classic steering wheel
24.6:1 crawl ratio
I did 90% of this work in my driveway. I DD this truck. It's loud, it rattles, the heim joints are noisy, but off road this is one of the most capable Subarus built.
I have about $12k into it just parts. This is my vision of 25 years of Subaru experience culminated into 1 ride.
She's crossed the Mojave road, explored the Sierras, driven to AZ, UT, and Nv. I've been to mammoth, and explored every desert CA has to offer. She's been bogged in mud, in 130° temps, in snow, you name it. I've recovered jeeps, full size trucks and cars. I've lived out of it for as long as 2 months. She don't do anything exceptionally well, but she can do anything.
Thanks to ADF, Subiworks, and all the people across the globe who continually help me source parts.
---
1 comment